Free delivery on all products

vidaXL has over 10 years of experience in cross-border e-commerce and offers the opportunity to increase your sales quickly and effortlessly. Sign up today for our Affiliate program and benefit from our deals!

We will help you grow and attract new customers with our best deals. You will have access to our product feeds, coupons and other marketing materials. Your Account Manager will be in contact with you and together you create unique deals, suited to your needs. Stand out with the vidaXL Affiliate program!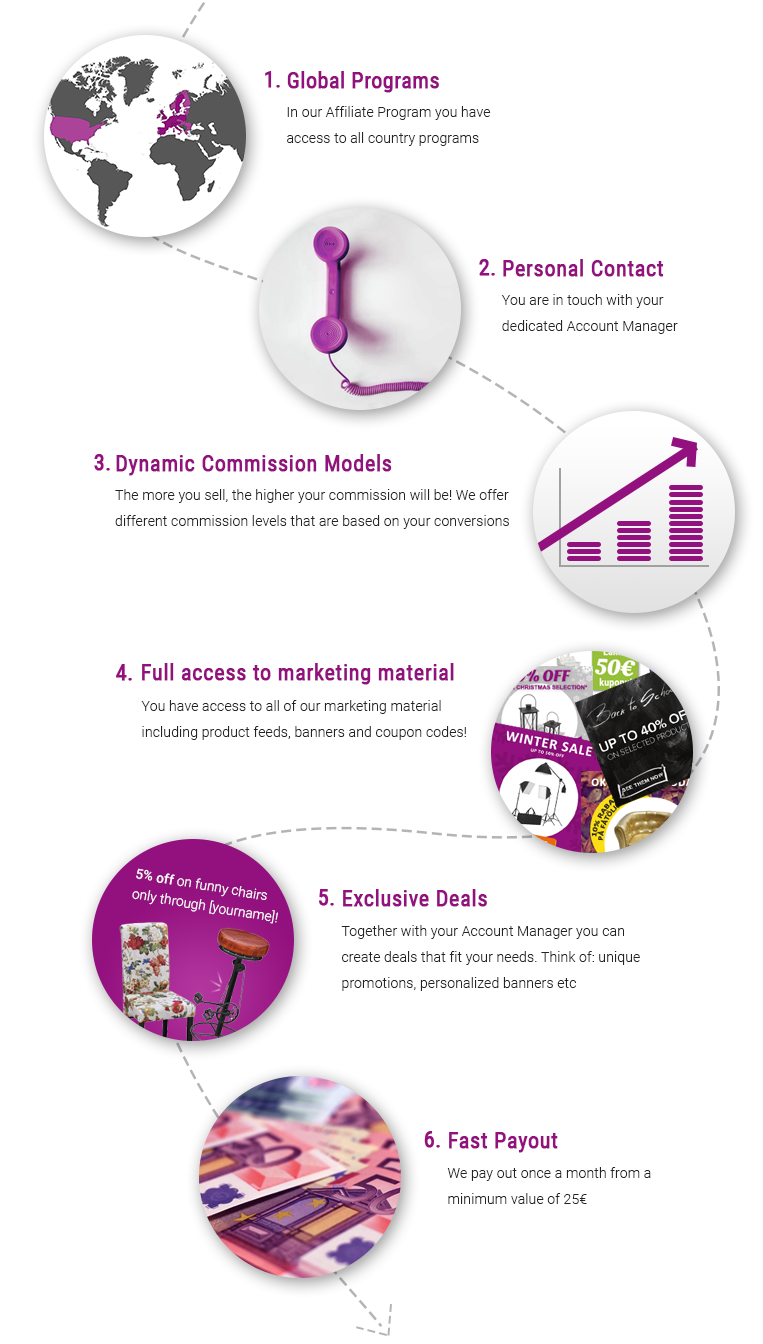 "We've been working together with vidaXL as an affiliate partner for almost three years now and they have always been one of our top partners. vidaXL is always open to try out new ideas so we can continue getting the most out of our relationship"

– Florine van de Werff, Vouchercloud

"vidaXL and Savoo's relationship has gone from strength to strength in 2017 - The knowledge and experience of the Account Managers and Affiliate team of vidaXL has allowed us to grow the program, while continuing to explore new ways of working together with fresh strategies and promotions. We look forward to continuing the work we do with the vidaXL team, to come up with new ways to increase YOY sales."

– Anne-Sophie Larger, Savoo

1. Sign Up:

Sign up for our Affiliate program and vidaXL will review your application in the coming business days.

2. Join country programs

Select programs for countries, in which you want to sell in.

3. Pick your deals:

Choose your deals and use our marketing material on your website.

4. Generate conversions:

If a click from your website leads to a sale on our webshop, you will get your commission, we use last click attribution.

5. Level up!

The more conversions you generate, the higher your commission level will be! We offer 3 different levels: bronze, silver and gold

6. Earn money:

Your commission will be paid out 1 time per month, as soon as you have earned 25€

Restrictions:
Please be aware that we check if your website fits our criteria, since we have some restrictions to our vidaXL Affiliate program. For example, we prohibit click-stimulation software. Furthermore, racist, pornographic, violent, hateful or criminal content is not allowed in our Affiliate Program. Please visit Restrictions for the full list to ensure that your website is up to standard.





Benefit from our offers and attract new customers or create your own deals with your Account Manager. Enjoy the benefits from our dynamic commission models and earn easy money! Stand out with the vidaXL Affiliate program!