Write a review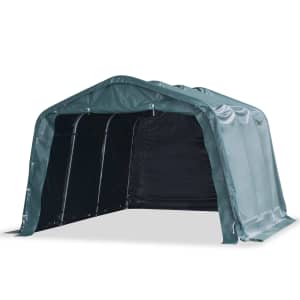 vidaXL Removable Livestock Tent PVC 550 g/m² 3.3x4.8 m Dark Green
Brand: vidaXL
Description
This livestock tent has been designed to keep bigger livestock, such as horses, sheep, or cows. It will be ideal for sheltering your livestock in adverse weather conditions or for temporary pastures, meadows or paddocks.
The livestock tent's cover and side panels are made of 100% PVC material, which is UV protective and water resistant. There are 2 door panels, each with a zippered, roll-up doorway for easy entrance for animals of different sizes. This frame has been manufactured from rust-resistant steel and is thus highly durable.
Assembly is really easy. Delivery includes a canopy top and sidewalls, a steel frame and all other accessories you need to erect the tent. Please note that we recommend treating the canopy with a waterproofing spray if the marquee is subjected to heavy rainfall.